Energy Stone (Production of wave water)

This stone delivers the information of the atomized waves in the structure of water molecules so as to store beneficial waves in the water. When nature's wave energy resonates, it activates cells, heat, blood vessels, and the nerve system, improving not only the muscular strength, flexibility, and balance of our body but also its immunity.
This stone containing natural minerals has the ability to produce alkaline water and hydrogen reduction water and will find suitable uses in appliances for homes, schools, and public institutions as well as portable products.
The hydrogen component dissolved in water circulates in the body and binds to active oxygen, especially the substances that cause various diseases and aging, draining them in sweat or urine, thus keeping the body healthy.
Alkali reduction water contains an abundance of hydrogen ions (H-) having a surplus electron, which offsets active oxygen that is the cause of all disease, keeping the body healthy; furthermore, it has an excellent surface-active capability to dissolve wastes stuck to the walls of blood vessels, exhibiting effects on hypertension and thus resulting in the stability of other chronic adult diseases.
This water activates the body's function and immunity and promotes metabolism.
This water is also effective for those who are suffering from stress (headache, stiff shoulders, and lethargy); who have been exposed to harmful earth radiation (electromagnetic waves, water vein waves); who want to overcome fatigue; and who are students and athletes.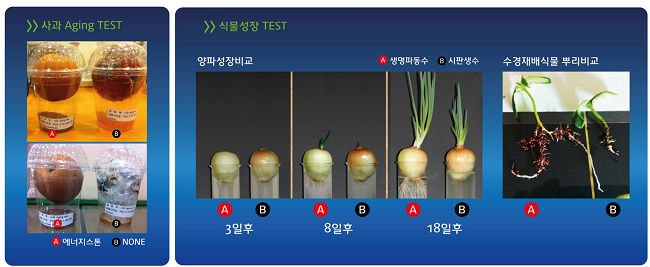 ​